Ref:
Date:
Location:
Photographer:
Ref:
Date:
Location:
Photographer:
Exhibitions & Events
CLICK HERE to join my mailing list!
To celebrate 10 years of Street Pastors in Basingstoke a selection of my Artwork will be on display at the United Reformed Church, London Street, Basingstoke until 19th July 2018.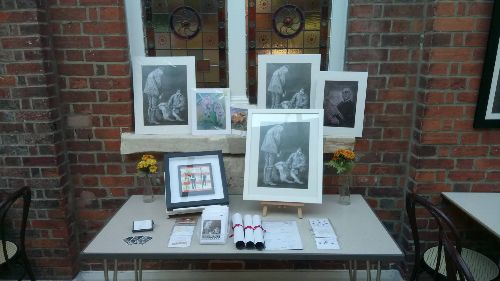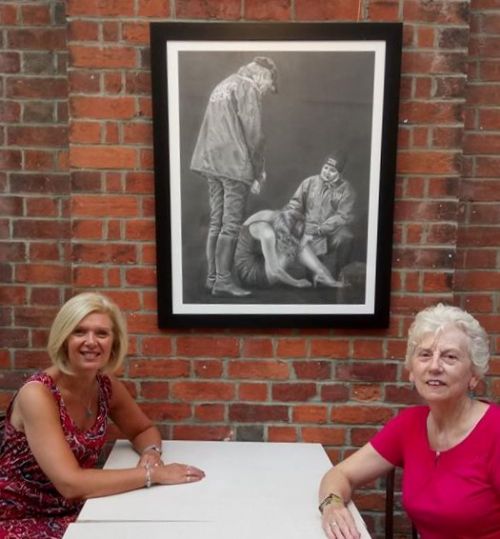 Culture on the Common
A local Art Exhibition and Craft Sale, with live music, entertainment and refreshments.
I will be selling cards, prints, craft and artwork.
Sunday, 29th July 2018, 1 - 5pm
Hartley Wintney on the Cricket Green.
Viables Summer Fayre
Sunday 5th August 2018, 2:30 - 5pm
I will be selling cards, prints, craft and artwork.
Entrance 50p per person
or £1 per family of 3 or more
(Proceeds go to community centre)
Viables Craft Centre,
The Harrow Way
Basingstoke,
RG22 4BJ
Solo Exhibition
'Everyday Narratives'
Willis Museum and Sainsbury Gallery
Market Place, Basingstoke, RG21 7QD
23rd September - 21st October 2017
Tuesday - Friday:10:00 am-5:00 pm
Saturday:10:00 am-4:00 pm
Monday and Sunday: Closed
Bethany is a Hampshire based Artist, who defies categorisation, engaging with a broad range of subjects and media. Bethany has exhibited widely both nationally and abroad. She trained at the University of West London for a BA (Hons) in Interdisciplinary Fine Art. She enjoys experimenting with different and sometimes unusual materials and techniques. "In my opinion art should touch the hearts and minds of people in some way. Whether it makes them laugh, cry, feel, think, question, connect with or be otherwise effected." Bethany is also an Art Tutor, catering for both children and adults. "I have a strong belief in the importance of art within our society and am keen to pass on this enthusiasm."
While Bethany's subjects are diverse, her inspiration comes from her own experiences, her friends and family and situations she comes across. Every image has a story behind it and it is this interest in narrative that brings together the exhibition. Her works often contain many layers of meaning and imply a narrative that is never told in full, encouraging the viewer to engage with the artworks and construct their own meanings.
Central to the exhibition are Bethany's graphite portraits depicting Basingstoke Street Pastors and Salvation Army Soldiers. In 2014 Bethany had the opportunity to walk with the Basingstoke Street Pastors as an observer. The resulting artworks are inspired by that experience as well as Bible verses. Her portraits seek to capture the vibrant personalities of the subjects depicted in their various voluntary roles.
While her popular 'Please Mind the Gap' series of train ticket cut outs are a tongue-in-cheek response to the artist's experience of public transport. Each work is both a record of a single journey and an exploration of a wider shared experience that draws on each viewer's personal memories and associations.
Willis Museum Website
Sherfield Open Exhibition 2017
Sherfield Gallery, , Sherfield School, , Sherfield on Loddon
Private View: 20th January 2017
Exhibition Dates: 20th January - 10th March 2017
The gallery is open to the public from Mon-Fri 9-5pm during term time by appointment.
This will be Sherfield Gallery's fourth Open Exhibition.
Culture On The Common 2017
Sunday, 30th July, 1 - 5pm
Hartley Wintney, on the Cricket Green.
A local Art Exhibition/Craft Sale
Spring Exhibition 2017
Basingstoke Art Club
Artist's talk and art taster session
Kingsclere WI
Wednesday 12th April 2017
Kingsclere Village Hall
Codes of Faith
10th December – 29th January 2016
Private view 10th December 6pm – 9pm
Laura I. Gallery, London, IG11 7BT
Laura I. Gallery is thrilled to announce its first group exhibition, "Codes Of Faith," opening on the 10th of December 2016 and timed to coincide with the lead up to the Christmas Holidays, a time of mysticism and spirituality for many individuals around the world.
Curated by Laura Iosifescu "Codes of Faith" is a group exhibition displaying artwork on the theme of faith from over 30 artists in order to celebrate diversity and promote world peace. Professional and amateur artists from myriad backgrounds and cultures will be displaying works representing their personal beliefs, varying from those who follow traditional religions to ideas about atheism and pagan spirituality. The aim of this multi-discipline exhibition is to inspire people to live in harmony, embrace differences and promote friendship and peace through our common values and wishes for personal peace and autonomy.
Throughout history, different religions and spiritual ideologies have had the power to separate people from each other and to create conflict. The organisers of "Codes of Faith aim to demonstrate that through art we can communicate to one another, overcome differences and unite in understanding and respect. By prompting dialogue and encouraging interdisciplinary exploration, "Codes of Faith" will ring in the holiday season in a truly thought-provoking way.
Laura I Gallery
Wildlife
Basingstoke Art Club
Willis Museum And Sainsbury Gallery
5th November - 16th December 2016
Preview 5th November at 13:30–15:30
An exhibition celebrating various aspects of 'wildlife' by local artists. The artwork will be for sale and there will be a public vote for the favourite exhibit. During the preview there will also be the opportunity to purchase greetings cards from the artists.
Ashford Hill Art and Craft Fair
Saturday 19th and Sunday 20th November 2016
11am – 4pm
St Paul's Church
Ashford Hill, RG19 8AZ
An exhibition of artworks made by a diverse group of local artists and craft stalls full of beautiful wares. Items on display and available for purchase will include paintings, prints, jewellery, hand-made gifts and greetings cards.
'Culture on the Common'
Sunday, 21st August 2016, 1 - 5pm
Hartley Wintney on the Cricket Green.
A local Art Exhibition/Craft Sale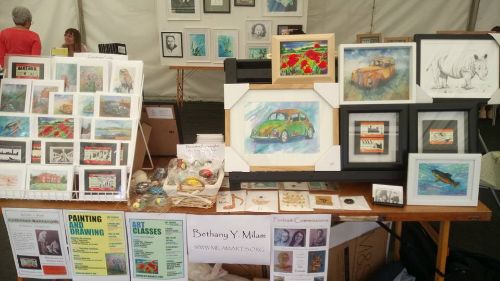 A Sporting Life
Southampton City Art Gallery from 25th June – 10th September 2016.
All works have been inspired by this year's theme, sport and recreation, which was chosen as we are in the year of the Olympic Games.
Southampton City Gallery
Old Basing Summer Festival 2016
Art Exhibition
Saturday 25th. June and Sunday 26th. June 2016
In the Bolton Chapel of St Mary's Church, Old Basing
Basingstoke Art Club Annual Spring Exhibition
Proteus Creation Space
Saturday 14th May to Friday 27th May 2016
Preview on Tuesday 17th May 6.30 – 8.00p.m.
Basingstoke Art Club
Basingstoke Art Club Spring Exhibition
11th – 23rd May 2015
10am – 5pm Monday to Saturday
Proteus Creation Space, Council Road, Basingstoke
The Society of Women Artists
154th Annual Exhibition
5th – 13th June
10am – 5pm daily (final day 3pm)
Late Opening Thursday 11th June to 7.30. Bar Available
I am delighted to be exhibiting with the SWA for the third year running, follow the link below for more details.
The exhibition will show a variety of media and styles, it will be opened by the society's patron HRH Princess Michael of Kent. The SWA is a unique Society able to showcase one of the most diverse shows in London today.
If you would like to attend the private view on Thursday 4th June 10am – 8pm please contact me for an invitation (needed for gallery entrance).
www.society-women-artists.org.uk
Basingstoke Festival of Arts and Crafts
October 11th – 12th
The Hampshire Court Hotel, Chineham.
A celebration of the work of local artists with original paintings and craft work for sale.
Proceeds will be donated equally to The Ark Cancer Centre Charity, Basingstoke Young Carers and Basingstoke Dial-a-Ride.
The Society of Women Artists
153rd Annual Exhibition
26th June – 5th July
10am – 5pm daily
The exhibition will show a variety of media and styles, it will be opened by the society's patron HRH Princess Michael of Kent. The SWA is a unique Society in that its rich mix of oil painters, water colourists, sculptors, printers and ceramicists is able to showcase one of the most diverse shows in London today.
I am delighted to be exhibiting with the SWA again this year, follow the link for more details.
www.society-women-artists.org.uk
The Artist and Leisure Painter Patchings Exhibition 2014
Organised by The Artist and Leisure Painter in partnership with Patchings Art Centre with over £11,500 worth of prizes.
6 June 2013 - 9 June 2013
Calverton, Nottinghamshire and Online
Portrait selected for highly commended category. View online and vote for People's Choice Award.
Patchings Highly Commended by Bethany Milam
Basingstoke Art Club, Spring Exhibition 2014
Proteus Creation Space,
Basingstoke
April 14th - April 25th 2014
'Culture on the Common'
Sunday 11th August, 1.00pm - 5.00pm
Hartley Wintney on the Cricket Green.
A local Art Exhibition, plus relaxing classical harp music and cream teas.
'NOT The Royal Academy'
Now in its 23rd year
10th June - 17th August 2013
LLEWELLYN ALEXANDER GALLERY
124-126 The Cut, Waterloo, London SE 1 8LN UK
OPEN: Monday - Saturday - 10am to 7.30pm inclusive
The Llewellyn Alexander Gallery, inspired by the original "Salon des Refusés" held in Paris in the 19th century, will hang the best of this year's work submitted to the Royal Academy but not hung. Over 8,000 paintings are submitted each year to the prestigious Royal Academy Summer Exhibition. Only 800 pictures finally make it onto the walls of the Royal Academy. Hundreds of artists bring their work for a further selection process at the Gallery where they will be told immediately whether they have been successful or not. Oils, watercolours and pastels of all sizes pass through the doors of this lively Gallery on the South Bank (opposite the Old Vic Theatre). Every painting is for sale and may be taken by the purchaser straight away, creating space for another to be displayed. All paintings will be on show for three weeks, after which new work will be hung. Over the years purchasers have returned again and again, commenting that this alternative exhibition contains more original and exciting work! The gallery is open from 10.am until 7.30 pm, Monday to Saturday, giving the opportunity for everyone to see this regularly changing show.
Not The Royal Academy
The Society of Women Artists
152nd Annual Exhibition 2013
At the Mall Galleries
The Mall, London, SW1
Thursday 27th June to Saturday 6th July
10am to 5pm daily (Closing 3pm on 6th July)
The Society of Women Artists
Basingstoke Art Club Spring Exhibition
'The Street', Queen Mary's College
Preview Tuesday 7th May 7.00 – 9.00pm
Exhibition continues 8th – 17th May
Monday – Thursday 10am – 4.30pm and 6.30pm – 8.30pm
Fridays 10am – 4.30pm
The Willis Museum Open Art Exhibition
23rd March - 13th April 2013
Tuesday to Friday 10am - 5pm
Saturday 10am - 4pm
Closed Good Friday
Willis Museum
News
'Wild Hill Pony' has won the public vote
The Mayor's Festival of Arts and Crafts
31st March - 1st April
Hampshire Court Hotel, Chineham RG24 8FY
Preview: 11am - 1pm Sunday 31st
Open 2pm -6pm Sunday 31st
10am - 5pm Monday 1st April
The Mayor's Festival of Arts and Crafts
BASINGSTOKE ART CLUB AT FAIRFIELDS ART CENTRE
Thursday 6th September to Saturday 29th September 2012
Basingstoke Art Club have run for over sixty years now. This exhibition displays work from present BAC members drawing together a range of styles and mediums.
The Opening Night will be Thursday 6th September 2012 from 6.30pm - 8.00pm.
Gallery Opening Hours:
From Thurs 6th Sept to Thurs 20th Sept : Mons, Tues, Weds and Thurs 9.30am – 4.45pm.
From Mon 24th Sept: Mons, Tues, and Thurs 9.30am – 8.00pm. Weds 9.30am - 6.00pm.
Fris by appointment.
Sat 29th Sept 9.30am - 1.00pm.
Closed Bank Holidays
Admission Free
'MIS-IN-FORMATION'
What you see isn't what you get.
Curated by Diana Ali
Friday May 25th – Sunday June 10th
Opening night Friday May 25th 6-9pm
Fringe Arts Bath
Are newspapers fair and accurate or do we get off on the scandals? Taking the concept of hidden truths, misquotations, rumour and gossip, the featured artists explore ideas of being out of the loop, lying, pseudoscience, factoids and conspiracy theories. Over twenty artists are exhibiting work in film, photography, installation, drawing and painting.
MUST HAVE....Been Something You Said
4 November - 30 December
An eclectic mix of text based work produced in a range of media
Aspex Gallery
Gunwharf Quays
Portsmouth
PO13BF
Open: 11am – 4pm Daily
Aspex
Town and Cityscapes
12th November – 3rd December
Tuesday to Friday 10am - 5pm and Saturday 10am - 4pm
The Willis Museum
Basingstoke
RG21 7QD
Admission free
Awarded Winner of 'Public's Choice' for Painting
Barcelona Showcase
The first international exhibition of contemporary art to be located in Gaudi's architectural jewel the Casa Batllo.
Open to the public on Saturday 10th December 2011 from 10.00 to 22.00
www.barcelonashowcase.com
How Far Can We Reach?
Three-Day Art Festival
Topolski Century Gallery, 150-152 Hungerford Arches South Bank, London SE1 8XU
Friday 29th - Saturday 30th of July
Admission free
www.topolskicentury.org.uk
The festival includes artists in a variety of mediums from visual art to music, performance, video, photography and sculpture and it is inspired by the sketches and paintings of Feliks Topolski who dedicated his life's work to a journey exploring and capturing the major moments of 20th century, one of the most significant century's in history.
Following the same longing for exploration, and desire to manifest the world we share and beyond, we are exploring the meaning of 'journey' and its different meanings, multiple expressions and varying facets of potential, from those deep within ourselves to that which identifies us in relation to each other.
Aaron Tebano, Amanda Whittle, Ayþe Banu Cansever, Bethany Milam, Chris Ivory, Chris King, Claud & Gronk, Collaborative Art, David Lucas, Florian Rago, Jane Hodge, Jessica Suarez, Nicol Vizioli, Panos Dimitropoulos, Russell J. Chartier & Paul J. Botelho, Sam Peacock, Susie Mendelsson and Wendy Stone would like you to join them on this journey of exploration through artistic expression in an attempt to challenge the limits of imagination.
Friday 29/7 opening day: gallery opens at 11:30am
Music performances and bar open after 6pm.
Gallery closes at 9:30pm
Saturday 30/7: gallery opens at 11:30am
Bar opens at 6pm.
Live theatrical performance starts at 7:30pm
Gallery closes at 9:30pm
Sunday 31/7 gallery opening time: 11:30am - 6:30pm
Brent Salon des Arts
The Gallery at Willesden Green, Willesden Green Centre, 95 High Road, London, NW10 2SF
Open Daily: 19th July - 12th August, 2pm - 6pm
Preview Party: Thursday 21 July 6-9pm
Admission free
Brent Salon des Arts
Brent Artists Resource is proud to present its first Brent Salon des Arts curated by Emma Frith and Lorenzo Belenguer.
Featuring work from emerging talent as well as established artists from across the globe, this group show will give visitors the opportunity to enjoy an eclectic array of artwork, from painting and sculpture, to photography and prints.
Visitors are encouraged to explore and engage with contemporary art in a creative and relaxed environment. Brent Salon des Arts, conceived in order to inspire audiences, encourages the purchasing and collecting of art. The Gallery at Willesden Green, selected by the BBC as one the top community galleries in London, gives a unique opportunity to explore the works of British and international artists.
Parallax Art Fair
Parallax AF is a selected art fair curated by Gayane Umerova and organised by Barlow Fine Art. Parallax AF showcases the best established and emerging international contemporary artists. Parallax AF will be held at La Galleria, Royal Opera Arcade, Pall Mall, London.
The fair involves two showcase exhibitions taking place on July 1st - 3rd and July 8th - 10th. Entry is FREE to the public.
Showcase Exhibition 1 focuses on international abstraction and conceptual work.
Open to the Public:
Friday 1st July: 10am-6pm
Saturday 2nd July: 10am-6pm
Sunday 3rd July: 10am-5pm
For information and tickets please go to
Parallax AF
For a direct link to Milam's page in the online catalogue
click here
HerStory by Women's Work
8th June – 8th July 2011
Monday – Friday 9am – 5pm
The Link Gallery, Winchester
The 15th annual exhibition organised and curated by the North Hampshire group, Women's Work will include a broad range of art by women that demonstrates narrative through it's content and method. Rather than use the title as in it's feminist roots, here we broaden it to show the thematic and technical breadth when things are told from a woman's point of view.
Women's Work is a group of female artists who hold annual exhibitions exploring issues that affect the everyday lives of women. The concept was originally created by Izita Kerr in 1996, with the first exhibition being held in conjunction with International Women's Day. Since then exhibitions featuring up to fifty artists at a time have explored different topics in galleries across Hampshire.
The theme of this exhibition, the second to be held in the Link Gallery, is 'Her Story'. Within this 'In the broadest sense, the title covers any aspect of women's lives that the artist chooses to portray, with a focus on Chronology and Narrative."
Spring Exhibition
7th - 17th June
Private View 7th June, 7pm - 9pm
Annual salon style exhibition by Basingstoke Art Club Members held at Queen Mary's College.
The Trans-Siberian Arts Centre: Open Exhibition
Bethany has been shortlisted as a featured artist for the Trans-Siberian Arts Centre; an exhibition of works in postcard format, exhibited to the public from a cabin on board the Trans-Siberian train travelling from Moscow to Beijing starting on the 26th of April 2011.
The Trans-Siberian Arts Centre (T-SAC) is a collaborative project between artists Jon Hewitt + Britt salt and is the first project for the not for profit artist run initiative KITCHEN. Travelling widely with no fixed address, KITCHEN promotes a varying range of artist projects using a pop-up ethos.
From April 26th- 2nd May 2011, T-SAC will be presenting a series of free performances, exhibitions and new works by over 180 emerging international artists from Moscow to Beijing aboard the Trans-Siberian train. Following this program of events, Britt + Jon will be developing the outcomes of the T-SAC project at an artist residency at Red Gate Gallery in Beijing.
During the 6 day Trans-Siberian journey, T-SAC will hold three main events. The Open Call Postcard Exhibition involving international emerging artists from diverse cultural backgrounds, the New Works: Emerging Australian and UK Video artists' exhibition, and Platform Performances. These exhibitions will be presented to a broad range of local commuters and international travellers between Moscow and Beijing from T-SAC's on board location, and will be free to view.
For more information and to view featured work please follow this link:
Trans-Siberian Art Centre Blog
10 Gales Art Prize
Teatime Reverie: An Eco Café has been selected for the 10 Gales Art Prize Exhibition, 22nd - 27th March
10 Gales Gallery
Railway Arch 10
Gales Gardens Mews
London
E2 0EJ
The '10 Gales Prize' will be composed of three group shows, during the course of three consecutive weeks, starting the 8th of March 2011. From painting and drawing, to printing or sculpture, film, video-art or installation, live art or mixed media.
SELECTION PANEL:
Iceberg Fernandez - Curator 10 Gales Prize
Sal Anderson
Graham Evans
Tessa Peters
Paula Roush
www.10gales.co.uk
ING Discerning Eye Exhibition 2010
'Please Mind The Gap: Liverpool To London Euston' has been selected by Mark Rappolt for the ING Discerning Eye Exhibition at the Mall Galleries in London. The exhibition is open to the public from Thursday 11 November 2010 to Sunday 21 November 2010
The ING Discerning Eye Exhibition is a show of small works independently selected by six prominent figures from different areas of the art world: two artists, two collectors and two critics. Work is selected from open submission and from artists invited by the individual selectors.
Teatime Reverie:
An Eco Café
A site specific installation at the Art House, Southampton
2nd August – 29th September
This playful installation draws the viewer into a dreamlike world of teacup flowers, bluebell jugs and teapot roses. Delicate paper and mixed media work is combined with a drawn back drop that has the feel of an overgrown illustration. The work addresses the divide between reality and imagination through the creation of a fictional world that interacts with the site.
The Art House
An Interview discussing the work 'Teatime Reverie: An Eco Cafe' is viewable on the Arts and Culture Blog; 'PB Culture'.
PB Culture
Old Basing Exhibition
24 - 25 July 2010
St. Mary's Church, Old Basing
Admission to the exhibition is free
An exhibition of paintings, sculpture and mixed media works by local artists, to coincide with the Old Basing 'Open Gardens' weekend. Refreshments and garden tickets/guides will be available from the marquee in front of the church.
Spring Exhibition
11th - 21st May
Private View 11th May
A salon style exhibition by Basingstoke Art Club Members held at Central Studio, Queen Mary's College.
Women's Work: Made to Fit
19th March - 17th April
Willis Museum Basingstoke
Private View on 19th March
The fourteenth annual exhibition by Women's Work, the organization founded by the Basingstoke Creativity Award winning artist Izita Kerr as a national platform for women to explore the issues of everyday life through their art. This year again sees a highly inventive and varied display of works specially 'made to fit' inside CD cases.